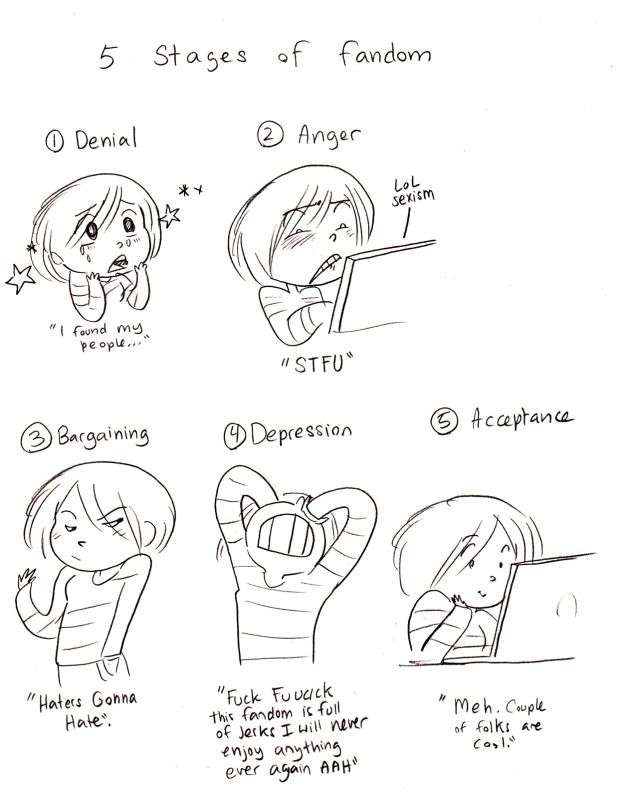 A little something that truly illustrates the joys of fandom in all forms of blogging.
I think I might be getting a bit tired - i'm having another bad drawing day today. Aka, a day where I can't draw anything that satisfies me. I've been getting them more and more frequently. I'm pretty sure fatigue is what causes them. The weather got a bit colder and the comic store is getting busier, so it probably doesn't help. I've been thinking it might be a good idea at some point for me to go for a weekend in a tiny house in the woods to disconnect from comics and the web. Not that I dislike either of those things (I adore both). But my job is internet & comics, and my distractions are internet & comics, and my artwork is all about the internet and the comics. So even though i'm hardly tired of these things, a break would probably still do me some good. It's prevention.
In other (good) news, a good artist friend of mine is pregnant (
YAY!
) and I've been selected to draw a short story for an anthology in the Princeless series (
a pretty fun comic for young girls
). So, you guys can definitely look forward to happy sketches regarding both in a near future. The Princeless story needs to be done for Halloween (eek), so I might be rushing a bit for that.
Also, I started reading "blue Exorcist" and that is a pretty sweet manga. I've been re-reading old European comics (namely, Spirou) and I keep noticing all the detailed work put in the expressions and the hands. No wonder i'm obsessed with hands and eyes. This stuff was all over my childhood. I can't recall who said it, but I remember there was an animator that said that if you're going to mess up something in a character, don't mess up the eyes or the hands. The rest can have screwy little details if those parts are awesome.
See what I mean about this whole "comics rule my life" thing?
Well, since this is already all about comics, might as well also tell you guys to check out this
kickstarter for a pretty cool webcomic
called Plume. Help me get this backed! I drew some fanart to encourage folks (and the artist). Enjoy!