So, let's start with the artness!
I drew a picture of Princess Serenity and Sailor Venus looking badass. Well, Venus looks badass anyways. She looks a bit too... butch-ish. But I kinda wanted her to looked bigger and stronger then in other fanarts (I Xena-fied her or something). Plus, in their past lives, she and the other senshi are a bit older then the princess, which might explain the height difference. Anyways. It's not the great art, but I do love it so...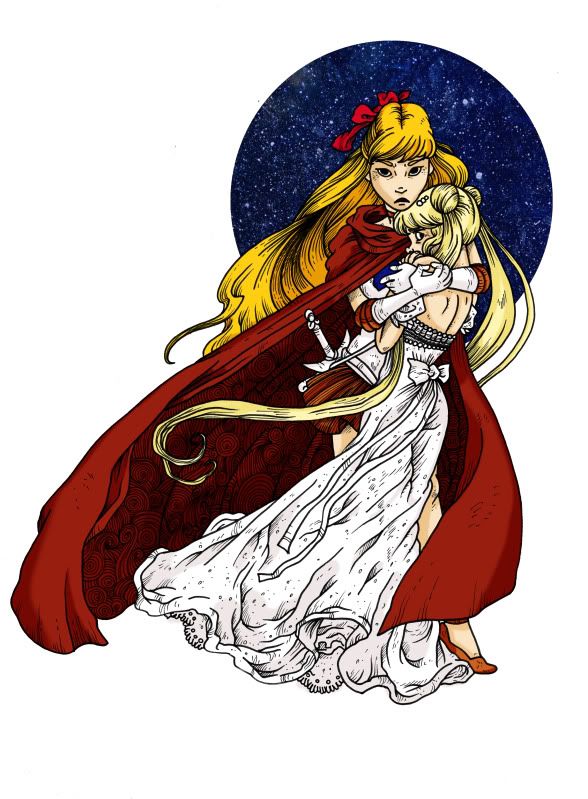 ( Sketches and lineart below cut. )
In other news, oh god oh god, why is there so much crap on my computer? I'm slowly trying to re-build my online porfolio. It's hard to find images and decide which ones to take. I'm also in a bit of a pickle, since I seen to be lacking recent "original" art I can use. Lately, I seen to be drawing a lot of fanart or comic pages. I don't seem to be taking the time to draw original non-comic-formatted things. I really should get on that. My portfolio needs more originals...
Maybe fairy tale stuff? and some pretty ladies?
So for the next few weeks, I might be focusing on drawing some cool, non-fandom related things! If you have suggestions, let me know!
It's crazy cold today. I wish I was home in my warm bed...
- Isa