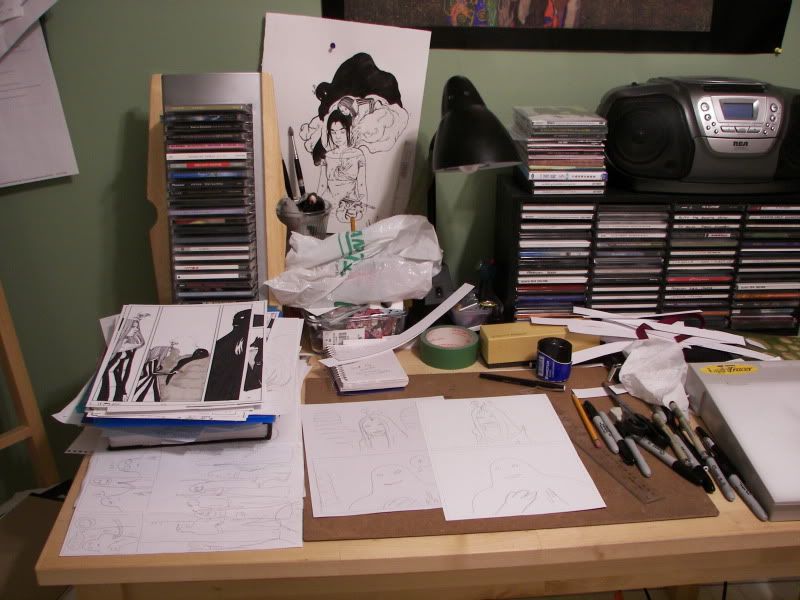 Good news! Rose is advancing quite at a stable pace. I have 31 pages done (31 pages on 55) I calculated that if I drew two pages per week day (monday to tuesday) and 6 on every weekend day (Friday-staurday-sunday since I took friday off) I could have the remaining pages drawn by the end of this week. Boo-yah! I don't know if I can do it, but I'm definitly going to try...a lot. Then I can move on to illustrations and other random stuff.
Aside from that, i'm doing well. Link was around during the week and I ended up catching up on my sleep quite a bit. I also got my other book in. I did several illustration for a book, though I didn't write the text, this is the first official (aka with an ISBN) publication with my drawings in it. Rose will be the second (text and illustrations, even better).
I'm not doing to bad for a person just out of school. Several exhibits, contracts and books in only one year. I am, as they say, ON FIRE.
I can't wait for Rose to be finished so I can see the resulting book. I also can't wait to pick up other fandom and serious comic projects. I'm more motivated then ever. Drawing is so amazing :D And plotbunnies are attacking me!
On an unrelated note, you may notice the banner is gone. It's due to a technical difficulty. It should be fixed soon, though I might just remove the banner all together. I've been meaning to change it anyways... This might incite me to work on that.
On a second unrelated note, I am thinking of opening another blog. Either on LJ as well, or Dreamwidth or Blogger (some people suggested I could also do it on deviant art, but I don't like Deviant art that much...) This other blog would be created for me to show off my comic art in a more professional manner. Because even though I have my portfolio website and a Deviant art account, I don't update those often since I don't want to put unfinished things on them. I want something with more frequent updates and sketches... And I know I have it here, but I'm starting to find it creepy to give this URL to people...because yes, it's my comic work, but it's also my life and friends blog.... And some people I just really don't want reading this stuff, though I don't mind them seeing my art. Plus, it sucks to give to an editor an URL that does lead to art, but also to talk of geekery, shoes and sharpie poisoning....Unless they are into that XD.
Over and out!
-Isa