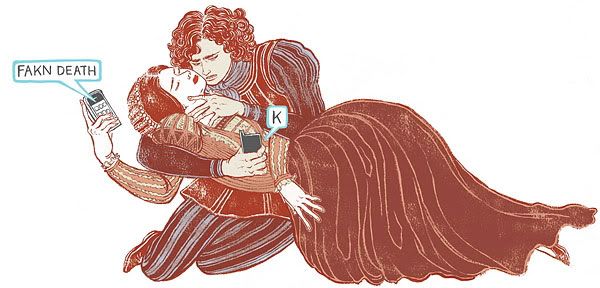 That's it folks. I'm down to two pages left, and two illustrations left. Then i'm going to scan the beezejus out of these pages and be done with it.
HAHAHAHAHA.
I gotta give myself a little pat on the back. 25 pages in 2 and a half weeks? I think that's pretty darn badass. I am the drawing version of Batman. woo-hoo-hoo.
Okay, done tooting my own horn now.
I want to take a little moment to talk about Romeo and Juliet.
Romeo and Juliet is the story that kinda inspired Rose, i'm not sure why. I'm not a huge fan of the Sakespearian play. I mean, for a french person, it's barely readable. I'm not a big fan of the really famous movies for it either. the 80's one was cheesy as hell and the modern one with guns was confusing (load battles over confused, complicated text. Yeah, that's easy to follow!) so I don't know. I guess I just like the idea being Romeo and Juliet. I mean, it's the story behind every story - two lovers and two sides. It can be used as a metaphor for so many things. However, a few people argue that this story could not happen in modern times (they could have just texted each other, or sued their parents, etc.) I think as long as there are people who can hate each other and arguments, there will be Romeos and Juliets.
Just watched Anastasia again. I know this movie is completely innacurate history wise but GOOD GOD is the animation AMAZING. All the little subtle movements.....ALL OF THEM. I think that is the main difference between Disney style and Don Bluth. Disney kinda exagerates movements (like a punch will be a nice, long, fluid swoop). Don bluth also exagerates them, but he exagerates all the little movements that define the action (a punch with be the character shifting from side to side with footwork, followed by an hesitant, then wide punch, then his weight follows the punch and he looses balance.) I think I like Don Bluth better. I love all the little motions. You can see a few of them in some of the disney movies he worked on (like the fairies in Sleeping Beauty.)
In unrelated news - Lo and behold - the banner I drew for

the_flowergirl
. Colored by a braver soul then me (I hate coloring). It looks great in colors!
Also - HAPPY BIRTHDAY TO
JESS FINK
. Artist of the awesome (erotic) webcomic
Chester 5000
. If you don't mind the sex (It's...frequent...) it's a fun read. Very light a beautiful drawings. Plus, robots (sex-robots) in a victorian setting is really interesting...